Ecology and sustainability may conjure up images of agriculture, recycling, and saving the oceans. As an urban community, Jesus People seems far removed from caring for natural resources when in reality it's all about doing what you can right where you are. We formed the Uptown Garden Collective to address some of these issues together, asking the question, "What can we do, with our limited space and resources, to be part of the solution instead of the problem?"
"What can we do, with our limited space and resources, to be part of the solution instead of the problem?"
Uptown Garden Collective is comprised of four people (so far!) who are committed to finding ways to implement ethical environmental practices. Laura Thiessen, John Betten, Tammy Perlmutter, and Meghan Filizola have been meeting regularly to brainstorm ideas as spring approached.
As people of faith, we believe that we are called to steward creation through permaculture*, responsible land and building management, creative sustainability efforts, and conservation of all living things.
Some of the ways we have done this are through maintaining and sharing our rural properties (in the past), recycling waste, repurposing building materials, sharing vehicles, and living communally which offers the added benefit of minimizing our carbon footprint.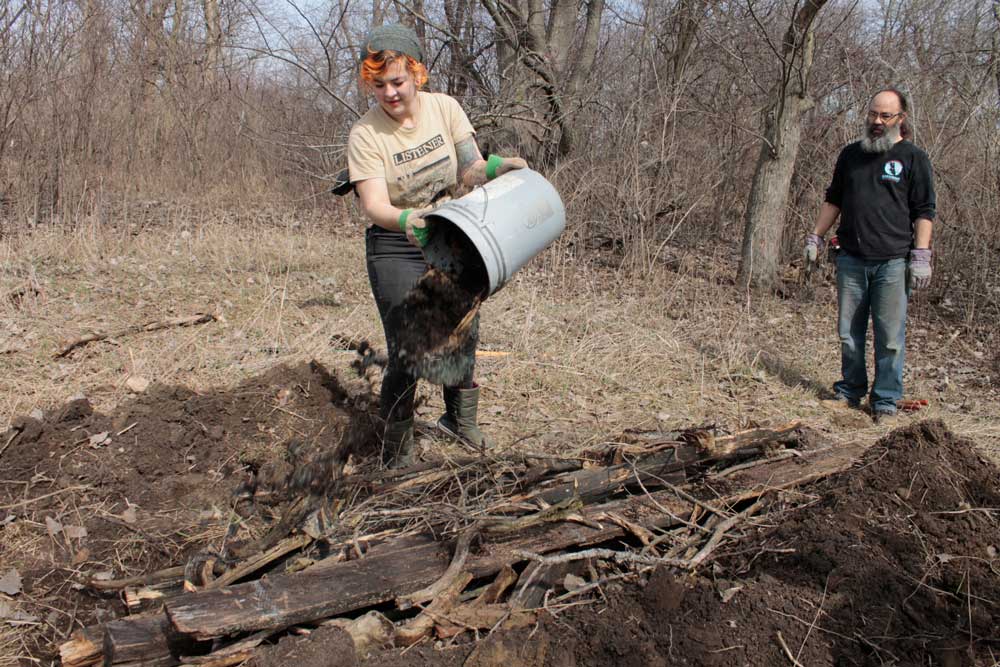 Recently we have made efforts to reduce waste by composting food scraps from our kitchen and coffee grounds from Everybody's Coffee and making our own rich soil from mulch and worm castings! We have even earned a four-star energy rating for our Wilson Avenue home.
Our founder, Laura, a program aide for Cornerstone Community Outreach, had been dreaming of a way to introduce gardening to women and children experiencing homelessness as therapeutic self-care. She came up with the idea to build a rooftop garden on Hannah House: "I want women and children to have a chance to become involved with growing things, to put their hands in the soil, watch the miracle of seeds growing, and soak in the sun. I'd like them to see that they can grow some of their own delicious food and know how powerful it is to become even a little more self-sufficient."
We began thinking of ways to create more green spaces for us to garden within our limited landscape. We've been adopting window sills and porches and planting container gardens to grow herbs. We bought enough open-pollinated seeds to use in our various gardens and give away to people who wanted them. We'll be saving the
seeds to ensure adaptability to our native climate and soil for future planting. When asked about how he finds places to plant, John explained, "It's not idyllic, but I see this place as our home and a chance to treat the living ground and plants with responsibility, attention, and affection. Even at JP, we can grow salad greens and herbs in the dim light, build planters on roofs and patios, and grow microgreens indoors through the winter. Every bit of ground and empty space is an opportunity to nurture life and let it nurture us."
Jesus People has been renting a small plot of land 40 minutes outside Chicago, in Monee, Illinois. Meghan began researching the pre-existing ecosystem and ways we could plant there that wouldn't require constant watering. There isn't a water source on the property and we wouldn't be able to maintain it daily.
"As we're bringing new plants onto the lot we need a way to help them be as independent as possible," Megan says. "I discovered Hugelkultur garden beds. You build a mound of soil on top of rotting wood that holds moisture for the
garden bed. This is a perfect solution since we can't water it often and we'll use all of the compost our urban community is quickly producing. We built our first two beds a few weeks ago!"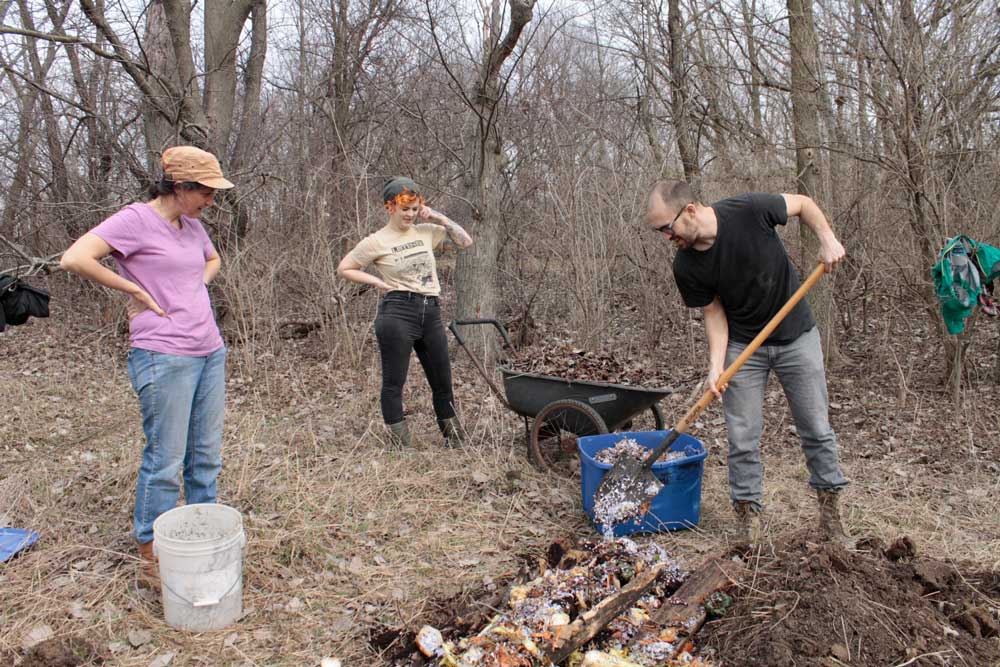 We named ourselves the Uptown Garden Collective because we didn't want this project to only benefit and include Jesus People. We're hoping to possibly expand into vacant lots and community gardens. We are always welcoming people who want to join us, so please let us know if you'd like to volunteer!
Uptown Garden Collective needs financial and material donations to continue its work. If you would like to help, please visit their website.
Follow UGC on Facebook and Instagram and volunteer here!
We'd like to respectfully acknowledge that the city of Chicago is on the traditional homelands of the Miami, Peoria, and Potawatomi peoples. We also acknowledge with respect the diverse histories and cultures of all original peoples of this region. And we lament the broken promises made to them and their systematic marginalization, and we thank them for their generous hospitality by holding space for them in our endeavors.
*Permaculture magazine defines permaculture as "an innovative framework for creating sustainable ways of living; a practical method of developing ecologically harmonious, efficient, and productive systems that can be used by anyone, anywhere."
**Special thanks to Eric and Drexel Clayton for their invaluable assistance digging with us!