One of the many joys of living in community is being with people who share their various gifts with all of us. These gifts may come in the form of talent at leading worship services, preaching, creating stunning art that brings people a better understanding of God. Sometimes a person's gifting is in the realm of hospitality through cooking amazing food that elevates the everyday experience of eating dinner together.
In the food history of Jesus People, some things stand out. Molasses cookies so legendary that people request them as wedding gifts. A chocolate cake made with mayonnaise that still brings grown men to sighs when someone makes it to share. But if you want to see a whole house full of happy Jesus People, inform them that Aunt Karen's Potatoes are on the dinner menu.
"But if you want to see a whole house full of happy Jesus People, inform them that Aunt Karen's Potatoes are on the dinner menu."
Recently I was on the elevator with a member of our community who is in a Goth band and wears a kilt every day with his platform combat boots. It was 5 p.m. and we were both holding our dinners. He had a not insignificant amount of dinner on his tray. "You really like dinner tonight, I see" I said. "Yes." And here he paused for a moment in reverence, then continued "It's Laura Crozier's day to cook dinner. The best day of the week."
Laura and her husband Tom moved into the community almost 30 years ago and she brought with her a number of Midwest recipes that continue to delight our community – Chicken Pot Pie, Snowflake Pudding, Turkey and Wild Rice Soup to name a few. But at the top of the Minnesota recipe pantheon of stick-to-your-ribs dishes (appropriate for potlucks of any size) has to be this side dish of butter, cheese, sour cream, and shredded potatoes. The true gift of it is that Laura is not able to eat any dairy products, yet week after week she makes dairy-heavy meals that she knows everyone loves as a form of hospitality.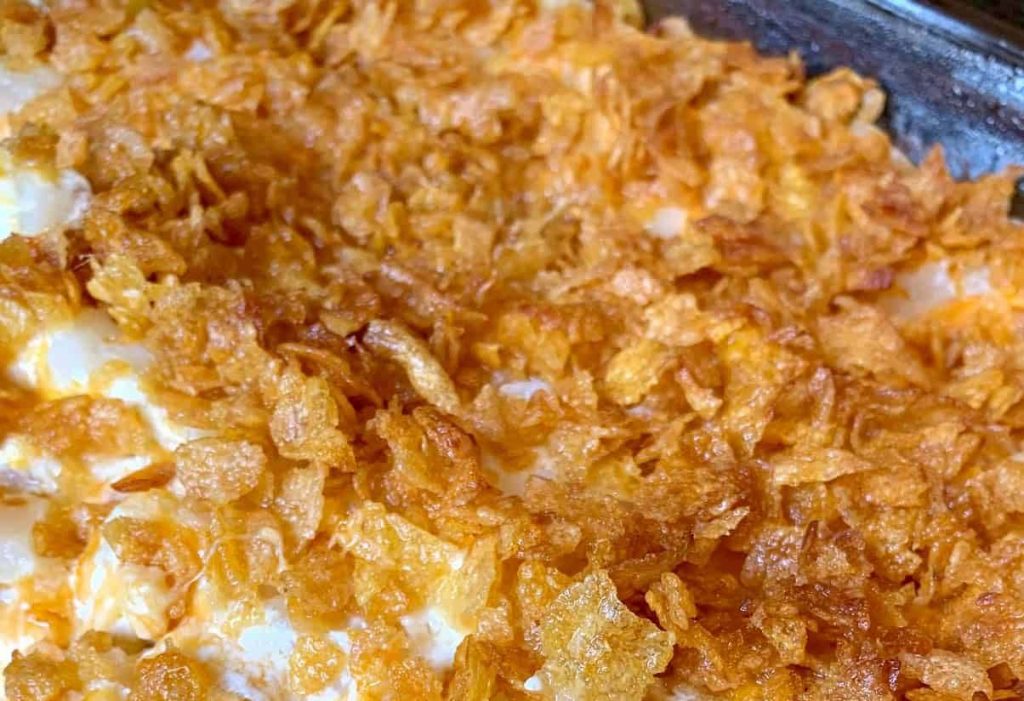 So here is the recipe for all of you who are curious what the hype is about:
Aunt Karen's Potatoes
(Serves 12)
1 – 2lb bag shredded potatoes
5 TBSP Butter, Melted (2 TBSP for casserole, 3 TBSP for cornflake topping)
Salt and Pepper (to taste)
1/2 cup half & half
3 TBSP dehydrated minced onion (rehydrated/soaked in 1/2 cup hot water)
1 can cream of chicken soup
12 oz container sour cream
3 cups shredded sharp cheddar cheese
2 cups crushed corn flakes
Combine crushed corn flakes with 3 TBSP melted butter. Mix well. Set aside for topping.
In a mixing bowl, combine ingredients (minus topping ingredients), mixing well, adding salt and pepper to taste.
Spray an oven safe baking dish with cooking spray. Fill dish with potato mixture, and top with corn flake/butter mixture.
Bake at 350 degrees 40-60 minutes, until entire casserole is bubbly and top is golden.
Last night we were lucky enough to have Aunt Karen's Potatoes on the dinner menu. One of my friends showed up with small containers for freezing potatoes after the meal. "This one is for my lunch tomorrow." She held up one container. "These are so that I have Aunt Karen's Potatoes when the need arises." Here she held up a few more containers.
It is good to have a backup stash of Midwest comfort, frozen and waiting for enjoyment in case the need arises.
Genesis Winter was raised in JPUSA and still lives there with her husband, Andrew. They are beginning the empty nest transition. She currently manages events at the Wilson Abbey, JPUSA's venue space, runs the Chicago's Best Baker Contest, and works as a spiritual director. Her past jobs include helping run Cornerstone Festival, teaching, and working in the community's financial office. She is glad to live in Chicago with its extremely diverse population and fantastic food, and is always trying to find ways to bring people together through events.